Understanding Conflictuality in Lebanon #DataForChange
On the 16th of October, Lebanon Support organised an event at its office that aimed at introducing and presenting the Conflict Analysis Project's maps and database in partnership with United Nations Development Programme (UNDP).  
Mia Bou Khaled (Lebanon Support) started with an overview of the Conflict Analysis Project, which main objective is to understand contemporary conflicts in Lebanon in order to comprehend their root causes and inform intervention and policy making. She also briefly explained the methodology behind the mapping exercise, emphasising the analytical reading of the database based on devised typology as to better comprehend the factors, dynamics, and actors involved at play. She also stressed the limits of such research which is certainly not exhaustive, but still provide an understanding of trends. She introduced in more-depth the five maps developed by Lebanon Support:
the
Geo-located map of conflicts
, the
map of Collective Actions
, the
map of State Response
, the
mapping of Public Actions
, and the
Conflictivity Index maps
, and demonstrated how to use these maps online with the available filters. She concluded by
explaining the importance of such innovative tools for policy makers, researchers, and other experts as they provide them with accurate data so as to tailor their peace building, humanitarian, and development interventions as well as inform the process of policymaking and public action within Lebanon.
Ali Najjar, ICT officer at Lebanon Support, briefly elaborated on the technical process of the development of these tools. The process to design and implement the mappings was met with many challenges notably regarding the protection of the database due to its sensitivity, while maintaining an open-access policy. These challenges required creative solutions from the ICT team in order to be addressed and to be able to finalise the maps.  
After the presentation, various users and stakeholders gave their insights about the challenges they are facing when working on conflicts and on how they use the database in their work.
Nizar Hassan (Lebanese Centre for Policy Studies) expressed his particular interest in the map of collective actions, and emphasised the usefulness of this database in his work as a researcher on public policy. He explained that there is lack of evidence-based findings regarding social movements in Lebanon, and thus such database is an important tool in order to monitor and analyse collective actions in Lebanon, especially regarding the actors involved and their grievances.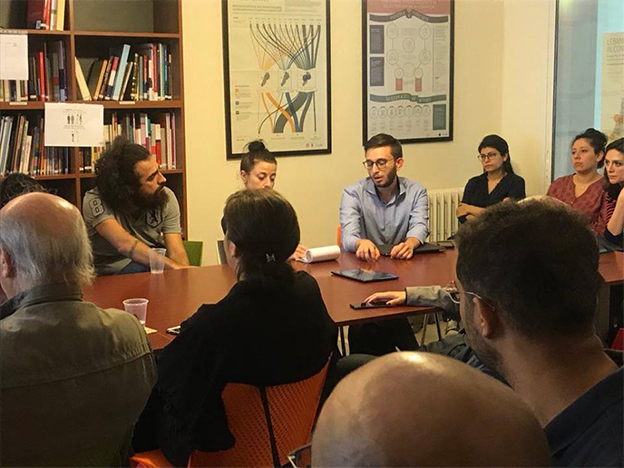 Kareem Chehayeb (independent journalist) highlighted the lack of transparency at the state level regarding the access to state decisions which requires a monthly subscription to the official gazette. As such, having a free open-access database on public actions and state responses, but also on conflicts in Lebanon is very beneficial for journalists to track incidents, state actions, and decisions in Lebanon.  
Attendees were able to ask questions about the project and mapping, but also provide feedback and suggestions regarding these tools before continuing the discussion and networking during the reception.