You are here
Geo-located mapping of conflicts in Lebanon (January 2018 - June 2019)
The map is continuously updated.
Each mapped incident is categorised and classified based on a typology devised by Lebanon Support.
The objective of the map is to provide different partners involved in peace-building, humanitarian and stabilisation activities in the country with accurate data and relevant information on areas prone to conflict.
Tips for using our map:
To get the most out of our map, make sure to check out our definition of "conflict" , our classifications, and be sure to read the map legend below.
Incidents may have more than one category or classification.
To view all the incidents that took place in a specific location, first find our location on the map. After clicking on an individual incident marker at the location, click on the location link to be forwarded to its profile. All incidents that took place in that location will be listed in a filterable table there.
Our filters below can help you find incidents by location, category, classification, date and more. At least one filter must be used for a search.
Legend

Individual incident marker
Individual incidents of conflict are marked at their location. Some incidents occur over a number of days and may have a prolonged time frame. This is especially relevant for armed conflict, and collective actions such as strikes.

Click on the individual marker to see a pop-up box giving a brief summary of the incident, with its categorisation and classification. For a longer description of the incident, click on the incident's title at the top of the description box.
Clustering
A cluster is a grouping of incident markers. Cluster marker colors indicate the number of incidents grouped within that cluster.
Clustering works by dividing the map into a square grid and grouping the markers into their respective squares. The size of a square in the grid changes at different zoom levels.

To see the different incidents grouped within a cluster, click on the cluster, the map will then zoom in to the different incidents grouped within it..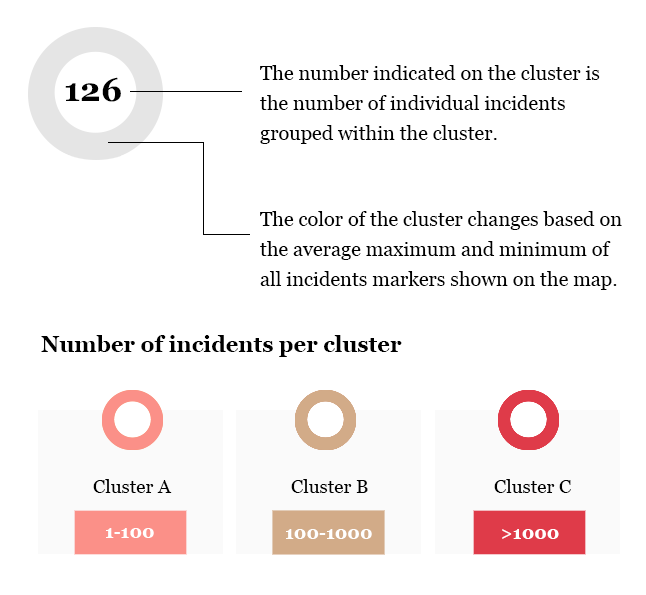 Defining "conflict"
Based on a socio-political definition of the term, our endeavor goes beyond a mere legal and security based characterisations of "conflicts" often associated with belligerency and violence on the one hand, or a too macro-oriented "social conflict theory" on the other, and sheds light on dynamics underlying a broad spectrum of contention including labour struggles, peaceful demonstrations, social movements, strikes, passing by conflicts opposing minorities (ethnic, religious or sexual among others) as well as local, national or regional actors' policies including the use of armed force be it internal or in breach of the Lebanese sovereignty.
Border conflicts (Syrian border)

Border conflicts (Israeli border)

Power and governance conflicts

Violations, disputes and/or conflicts arising between rival armed groups along the Lebanese/Syrian borders which involve parties or militant groups from the Lebanese and Syrian side in both Lebanon and Syria. These conflicts also encompass transnational groups (such as faith-based regional groups, e.g. ISIS, al-Nusra Front) that cannot be considered as strictly Syrian, Lebanese or of any other national entity.

Violations, disputes and/or conflicts instigated by Israeli intrusions on Lebanese national territories, airspace, and territorial waters. While there currently is no Israeli military occupation on Lebanese soil, these events are classified as violations of Lebanese sovereignty and are indicative of the continuous tensions between Lebanon and Israel.

Violent or non-violent conflicts associated with antagonisms related to internal political tensions between local and/or national groups and parties. These tensions may be encouraged by internal, regional and international parties. Such conflicts are characterised by their defiance and/or opposition to central State power and governance.

Policy conflicts

Conflicts of Social discrimination

Individual Acts of violence

Conflicts associated with political decisions, government or state policies regarding matters of public concern, such as debates concerning law reforms, electoral laws, and protests of the government's political decisions, among others.

Violent and unjust treatment of different categories of people and individuals based on race, age, gender or sexuality, committed by the State, groups and individuals, related to a lack of protection and rights, inefficiency of the Justice system and persisting social and economic vulnerabilities.

Violent incidents which do not have a specific or a known political agenda but are caused by the general proliferation of weapons, of trained and untrained soldiers or militants, by the general inefficiency of the Justice system, and past-traditions and histories of violence within society.

Conflicts of Socio-Economic development

Conflicts resulting from foreign intervention

Conflicts associated with lack of, or gaps in economic development, opportunities and access to resources.

Intervention or withdrawal of regional and international powers.