Women's Political Participation in Lebanon: An Overview of Empowerment Initiatives in Lebanon (2009-2019) - مشاركة المرأة في السياسة في لبنان: لمحة شاملة عن مبادرات التمكين في لبنان (٢٠٠٩ - ٢٠١٩)
Period Covered:
January, 2009

to

December, 2019
This infographic presents a mapping of the main Women's Political Empowerment (WPE) and Women's Political Participation (WPP) initiatives in Lebanon from 2009 to 2019. These initiatives were grouped according to four primary key themes, the main focus of these programs as well as their type of activity. The visual below highlights an overwhelming focus of initiatives on women's political participation in the formal political arena, without giving much consideration to political empowerment outside the realm of formal politics.
This infographic is based on Lebanon Support's report titled: "Women's Political Participation in Lebanon, and the Limits of Aid-Driven Empowerment".
يقدّم هذا الرسم البياني مسحاً للمبادرات الرئيسية لتمكين المرأة السياسي وتمكينها من المشاركة في السياسة في لبنان بين عامي 2009 و 2019. وقد جُمعت هذه المبادرات وفقاً لموضوعاتٍ أولية رئيسية أربعة،  محور التركيز الرئيسي لهذه البرامج، مداها الزمني، وكذلك نمط نشاطها. يسلّط الرسم البياني أدناه الضوء على التركيز الهائل على مبادرات مشاركة المرأة في السياسة في الحقل السياسي الرسمي، من دون إيلاء اعتبارٍ كبير للتمكين السياسي خارج عالم السياسة الرسمية.
الرسم البياني هذا مبني على بحث أعدّه مركز دعم لبنان بعنوان: "مشاركة المرأة في السياسة في لبنان، وحدود التمكين في إطار مشاريع المساعدات".
Women's Political Participation in Lebanon and the Limits to of Aid-Driven Empowerment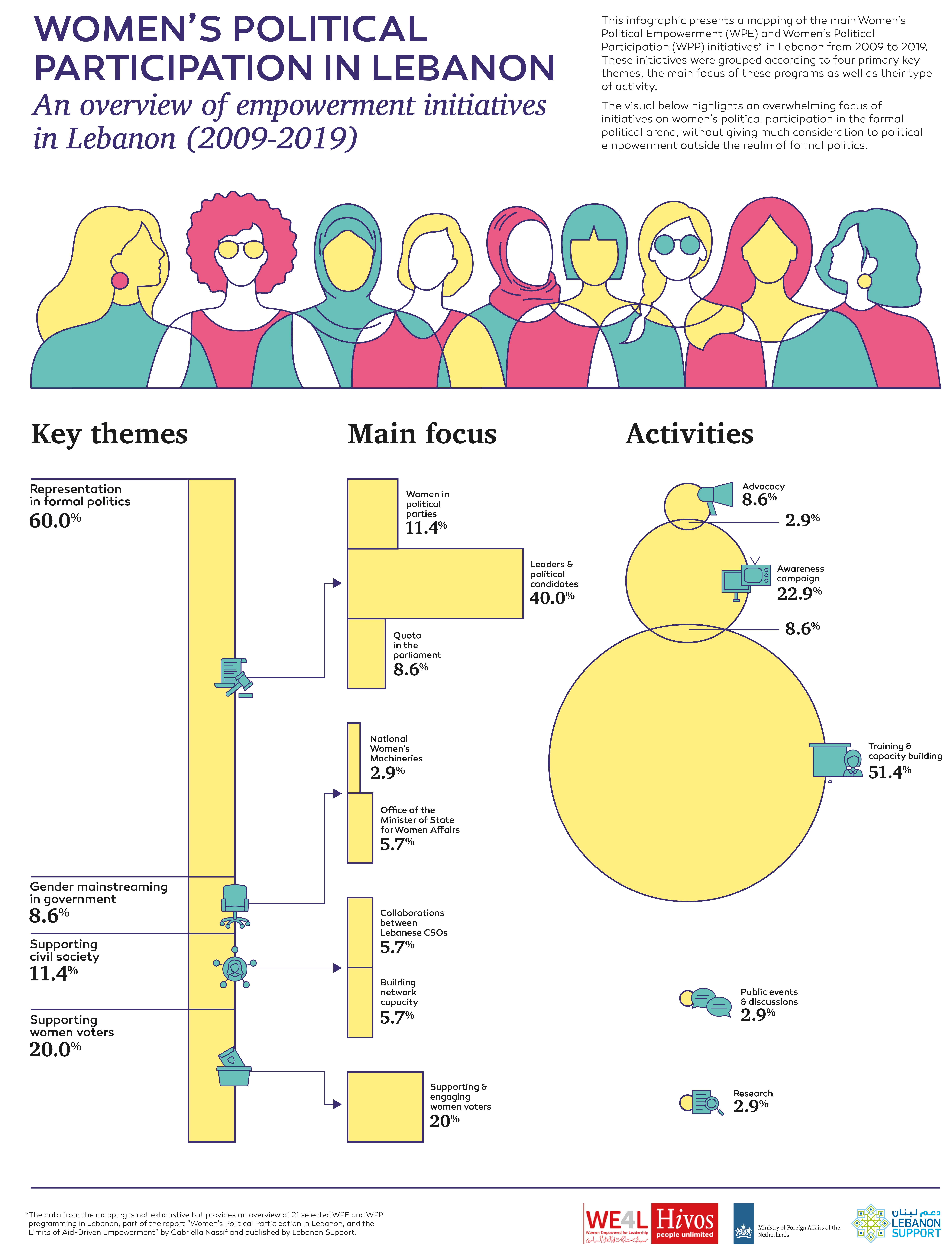 مشاركة المرأة في السياسة في لبنان، وحدود التمكين في إطار مشاريع المساعدات