The Conflict Context in Tripoli: Chronic Neglect, Increased Poverty, & Leadership Crisis.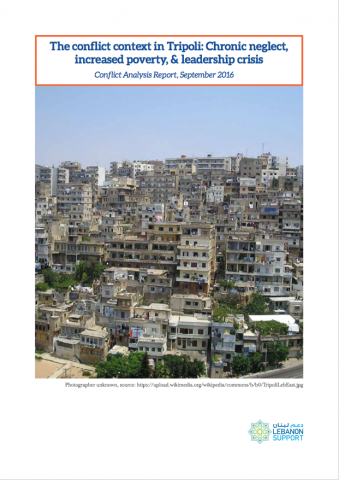 Dossier:
Conflict Analysis Project
Theme:
Quality of Life, Conflict Resolution
This report provides an analysis of the current political, social and economic dynamics in Tripoli, Lebanon. The analysis begins with a brief overview of Tripoli's history in the 20th century and the state's securitisation efforts to contextualise the current social and political landscape. The report particularly focuses on how state policy towards the city, along with Tripoli's special historical relationship with Syria, has contributed to ongoing armed conflict, economic stagnation, poverty and political fragmentation in Tripoli.
Keywords:
Conflict Analysis, Tripoli, Security & Policing, Political Fragmentation, Militarisation, refugees
Embed this content:
Copy and paste this code to your website.