Civil Society Review Issue 4: "Challenging "Migration Governance" in the Middle East and Turkey: Dynamic Power Relations, Contested Interventions, and Individual Strategies"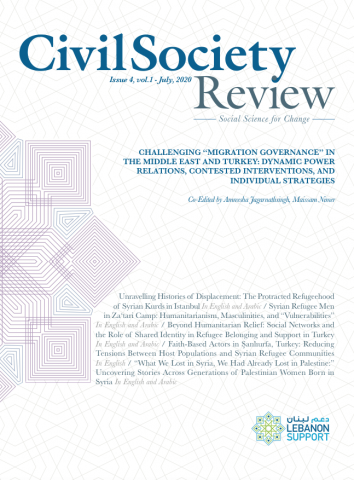 Author(s):
Amreesha Jagarnathsingh
Maissam Nimer
Dossier:
Migration, Mobility and Circulation
The papers gathered in this special issue of the Civil Society Review, both explicitly or implicitly, challenge the way in which migration is "governed" in the Middle East and Turkey. They explore how agency is articulated, shaped, and continuously adjusted in migration processes.
The outline of the issue is organised along three levels of analysis, namely subnational, individual and national or supranational, respectively. The first section, "Rethinking Top-Down Humanitarianism: Roles and Constraints of Solidarity Networks and Local Level Interventions," challenges the top-down character of local level initiatives by humanitarian and faith-based actors, in their effort to "govern" migration. It explores how some initiatives, upon closer scrutiny, seem to perpetuate structural inequalities, thereby defeating their self-proclaimed purposes.
The second section of this issue, "Lives and Trajectories of Migrants: Negotiating, Subverting, or Resisting Restrictive Contexts" centers around the impact of restrictive migration "governance" policies, or a lack thereof, at the individual level. Importantly, it investigates mechanisms to navigate or resist such policies, which rarely take into account the diversity of individual motivations and trajectories within wider macro-social structures based on ideologies, religion, class, gender, or ethnicity. 
The third and last section of this issue, "Navigating (Supra)National Agendas: Conflicting Priorities and Bargaining Power," provides insight into the significant role of transnational actors in shaping migration "governance." It illustrates governance modalities in which a pluriformity of state and non-state actors can interact, thereby challenging normativities of migration governance and dominant assumptions on what constitutes a "weak" state.
In sum, this issue argues for a re-evaluation of migration governance strategies at the supranational level, with more careful attention to the national, local and individual levels. Moreover, it underlines the importance of local knowledge production in the Global South, favouring more grassroots, tailored, and locally grounded interventions over global initiatives.
This issue is published in two volumes. Seven of the articles are available in Arabic.
Keywords:
Migration Governance, refugees, Middle East, Turkey, Migration, Policies & Interventions
Embed this content:
Copy and paste this code to your website.