Casualisation, precarity, and permanent instability of informal workers. A look at the working conditions of waiters and bartenders in Lebanon.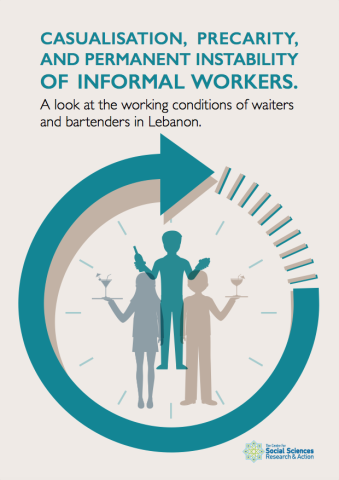 Publisher(s):
The Centre for Social Sciences Research and Action
Dossier:
Socio-Economic Rights Base, Conflict Analysis Project
Theme:
Livelihoods & Labour Rights
This paper looks at "informal employment" through the lens of workers in the food and beverage service industry (mainly waiters and bartenders) in Lebanon in 2022/2023. It focuses on the labor conditions and multiple challenges faced by these workers, as well as the impact of "informal employment" on the professional and personal lives of these workers in times of economic crisis. It further highlights the shifting priorities of these informal workers themselves from securing stable employment with benefits to over relying on disposable income and cash so as to get by in their everyday lives. The paper is based on in-depth longitudinal interviews with eight waiters and bartenders that, at the time of undertaking this research, work in a restaurant, bar, or cafe in Lebanon. 
Keywords:
Informal Employment, Casualisation, Instability, Social Protection, Social Security, Fundamental Rights, Lebanon
Embed this content:
Copy and paste this code to your website.