Workers against austerity. A look at anti-IMF mobilisation in Tunisia in 2022
Period Covered:
January, 2022

to

June, 2022
Workers' mobilisations have been ongoing in the last decade in Tunisia. Between 1 January 2022 to 30 June 2022, workers organised 167 collective actions out of a total of 275* (amounting to 61% of the total). A detailed look at these mobilisations shows how they were framed by the International Monetary Fund (IMF) imposed policies, and their corollary of imposed austerity measures over the last few years. 
The Finance Act in January 2018, which aimed at reducing budget deficit and inflation, included IMF-imposed austerity measures with VAT increases and subsidy cuts. Since the 2013 stand-by agreement with the IMF, the country was requested to cut spending by adopting a set of reforms. The latter include,  the "rationalisation" of the public sector (privatisation of public companies, freezing of recruitments, wages, and pensions), the increase of state revenues through indirect expenditure taxes, the lifting of public subsidies especially on food and energy, and the increase of the "exchange rate flexibility" or, in other words, the devaluation of the Tunisian Dinar. Since the start of the year, and as the Tunisian government will officially negotiate with  the IMF for a new multi-billion-dollar loan, mobilisations and strikes have been ongoing. 
Workers against austerity. A look at anti-IMF mobilisation in Tunisia in 2022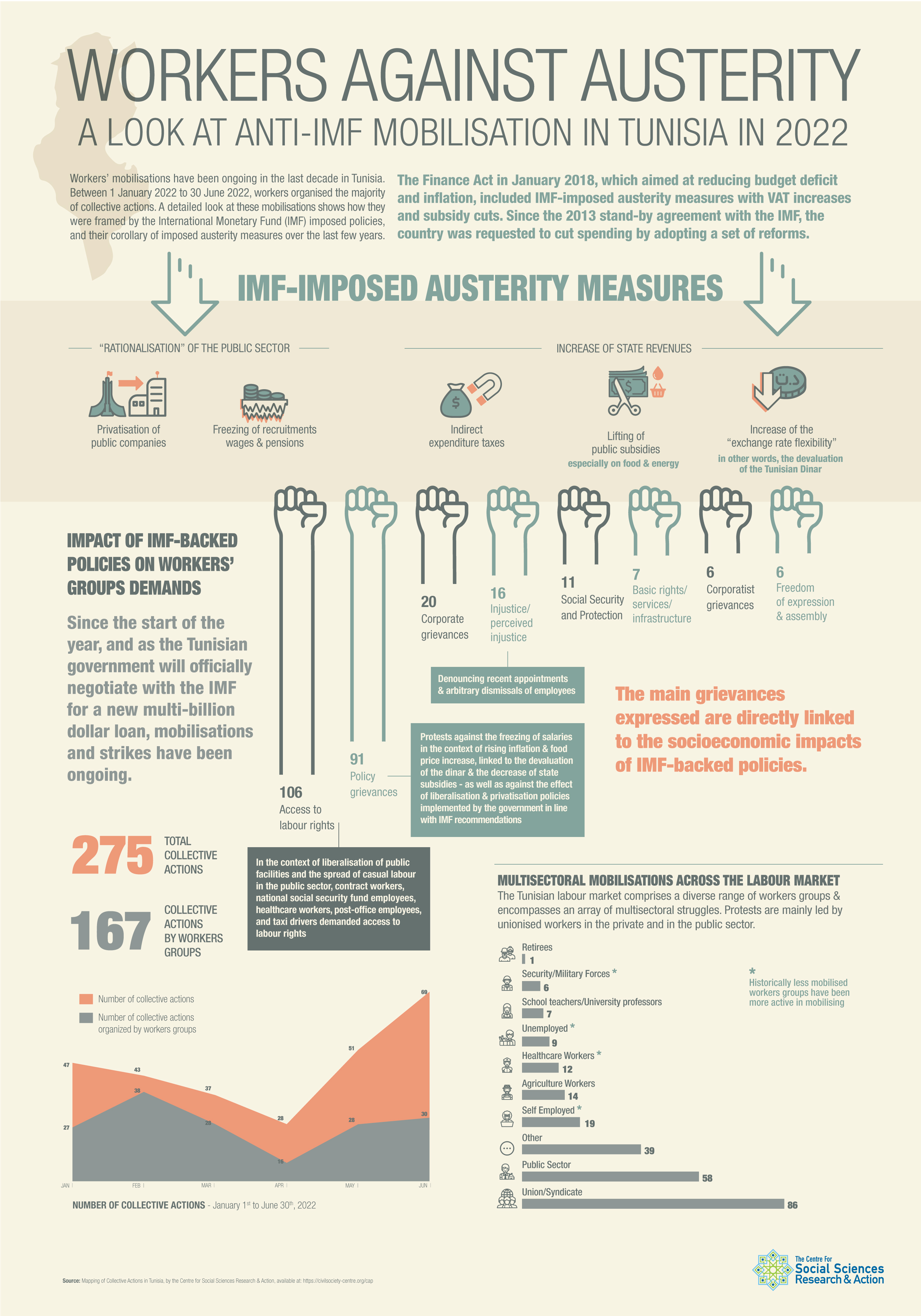 Dossier:
Socio-Economic Rights Base, Conflict Analysis Project
Embed this content:
Copy and paste this code to your website.