The Syrian Crisis and its Impact on Lebanon: A Conflict Analysis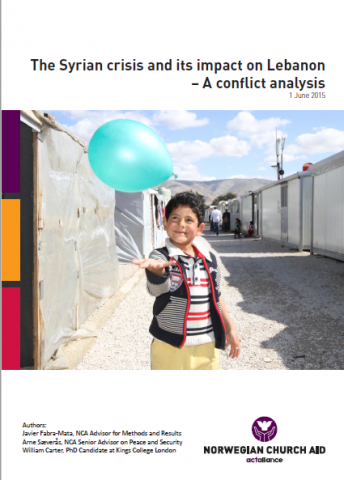 Dossier:
Migration, Mobility and Circulation, Conflict Analysis Project
Theme:
Safety & Security, Conflict Resolution
Norwegian Church Aid (NCA) with its partner International Orthodox Christian Charities (IOCC) has been providing assistance to Syrian refugees in Lebanon and host communities since January 2014. In light of the size of influx of refugees from Syria to Lebanon NCA found it important to conduct a conflict analysis of the Syrian refugee crisis, the humanitarian interventions, the related transfer of resources and its impact on the Lebanon and the Lebanese host communities – especially those being targeted by NCA programmes. Along with being a conflict-sensitive programming tool, to ensure that programmes 'Do No Harm', this NCA conflict analysis also aims at serving as a necessary entry point for working on the conflict, facilitating suitable forms of peace building interventions.
The findings of this report were informed by a combination of secondary data review and primary data collection. The main proximate conflictual issues relating to intercommunal tensions are socio-economic, linked to the following, 1) job shortages and housing, with increased rental prices, 2) strained public services, especially health and education and lastly, 3) feelings of exclusion and marginalization. In addition to elaborating on these findings, the paper discusses multiple related themes including, the interaction of local and national level conflict dynamics, intercommunal conflict trends, key actors in addressing intercommunal conflict, factors for and against peace – connectors and dividers and lastly, it makes a brief connection to gender as an overarching theme. Based on the results from the analysis and research, the following paper outlines some programmatic implications including but not limited to; ensure inclusion of vulnerable Lebanese host community members, strengthen communication and information-sharing with affected populations and consult/involve local community leaders.