Numbers for The Lebanese Memory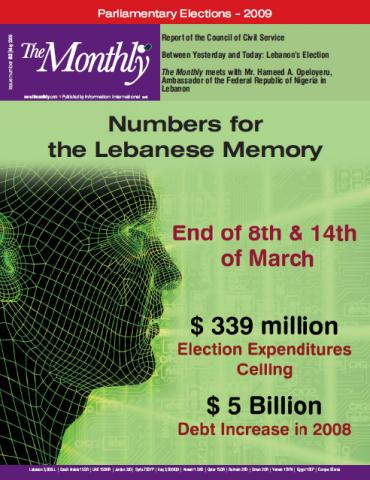 Publisher(s):
Information International
Theme:
Trade & Finance, Education, Culture & Tourism, Elections
Resource Type:
Newsletter and/or Periodical
Parliamentary elections of 2009 and the year 2008 in review. The evenings of tuesday and Wednesday, April 7/8 marked the last day to register as a candidate for the Lebanese Parliamentary Elections scheduled on Sunday June 7, 2009. The first candidate to register was Ali Badri Dandash (Shia'a seats allocated to Baalbak and Hermel district) and the last candidate was Mazhar Muhamad Osman (Sunniseats allocated to Minieh and Daniya district). The total number of candidates is 702. This number, presumably big, is mainly due to the adoption of relatively small electoral districts, in comparison with the past elections, consisting of 545 candidates in 2000 and 484 candidates in 2005.