Migration and Economic Empowerment of Women in Lebanon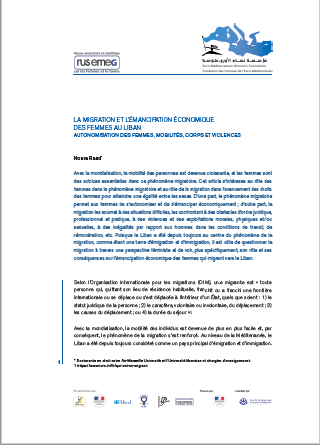 Publisher(s):
Euro-Mediterranean Women's Foundation (EMWF)
Dossier:
Migration, Mobility and Circulation, Gender Equity Network
Theme:
Economic Development, Gender
With globalisation, the mobility of people has grown, and women are essential actors in this migratory phenomenon. This article focuses on the role of women in migration and the role of migration in advancing women's rights to achieve gender equality. On one hand, the migratory phenomenon allows women to empower themselves and emancipate themselves economically; on the other hand, migration subjects them to difficult situations, confronting them with legal, professional and practical obstacles, violence and moral, physical and / or sexual exploitation, with inequalities with men in working conditions, remuneration, etc. Since Lebanon has always been at the centre of the phenomenon of migration, as a land of emigration and immigration, it is useful to question migration through a feminist perspective and to see, more specifically, its role and its consequences for the economic emancipation of women migrating to Lebanon.