Lebanon's Legacy of Political Violence: A Mapping of Serious Violations of Human Rights and Humanitarian Law in Lebanon, 1975-2008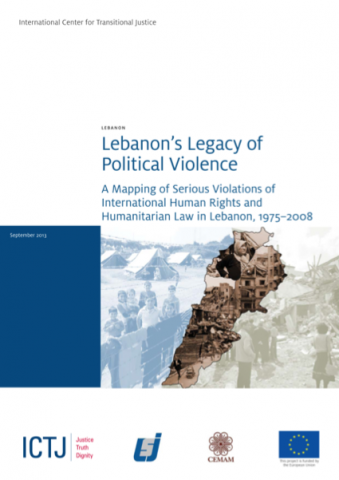 Publisher(s):
International Center for Transitional Justice (ICTJ)
Dossier:
History of Conflicts and Political Violence, Lebanon's Civil War (1975 - 1990)
This report compiles information on hundreds of incidents of serious human rights violations that occurred in Lebanon from 1975 to 2008, including mass killings, enforced disappearances, assassinations, forced displacement, and the shelling of civilian areas. It reveals patterns of violence and provides an analysis of incidents within the framework of international human rights and humanitarian law. While not an exhaustive mapping, the report is intended to serve as a key resource on which future research and investigative work can be built. Its aim is to contribute to the debate on how to break the cycle of political violence and serious violations of human rights in Lebanon and bring about accountability, the rule of law, and sustainable peace. This report was used as the basis for the interactive mapping project "Lebanon's legacy of political violence (1975-2008)", undertaken by Lebanon Support in partnership with the ICTJ and FES, which is available online on this link.