The 2010 HAP Standard in Accoutability and quality Management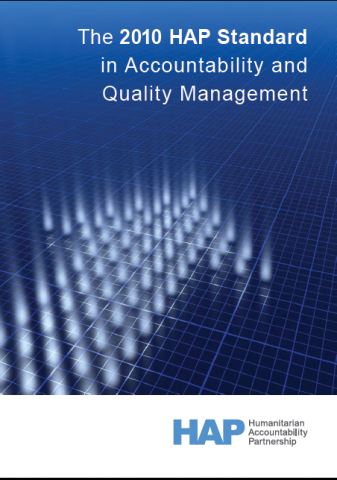 Dossier:
Civil Society Observatory
Theme:
Civil Society Development, Coordination & Information Management
Accountability has many meanings. Traditionally, it was understood as the was in which those who authorised others to act on their behalf made sure that authority was being used as agreed. Accountability is now more often understood to also be a right of anyone affected by the use of authority. this recent meaning of accountability is the foundation for the HAP Standard. For the purpose of the HAP Standard, accountability is the means through which power is used responsibly. It is a process of taking into account the views of, and being held accountable by, different stakeholders, and primarily the people affected by authority power. Accountability is particularly necessary for organizations that assist or act on behalf of people affected by or prone to disasters, conflict, poverty or other crises. Such organisations exercise significant power in their work to save lives and reduce suffering. In contrast, crisis-affected people have no formal control, and often little influence, over these organisations. As a result, it is difficult for those people to hold organisations to account for actions taken on their behalf. Being accountable to crisis-affected people helps organisations to develop quality programmes that meet those people's needs, and reduces the possibility of mistakes, abuse and corruption. Accountability processes that are managed effectively make the organisations to assess, improve and recognize the quality and accountability of their work, and benefits both the organisations and the people affected by the crises.